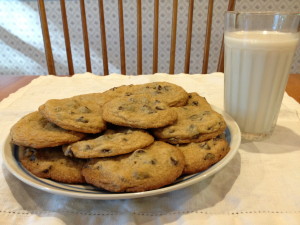 I was craving some good, old-fashioned chocolate chip cookies this weekend, so I indulged.  I love being able to incorporate local ingredients into my baking whenever possible.  Most recently, I used Trickling Springs Creamery butter to make these chewy chocolate chip cookies.
I believe there is a noticeable taste difference in local, grass-fed/pasture-raised dairy, and I feel better knowing I am supporting local, sustainable farms by buying it. To reduce the cholesterol (and because I didn't have any eggs), I replaced the three eggs called for in the recipe with ground flax (a.k.a. flax meal).  If I was to use eggs, I would make sure they were from locally-pastured chickens – if you have never tried, believe me, there is a difference compared to store-bought eggs!
Whether because of the local butter or not (I would argue it made them better), these cookies were great.  We took a batch to a cookout soon after they came out of the oven, and they were quickly snapped up by our friends!
To make the flax substitute, simply combine 1 tablespoon of ground flax with three tablespoons of water.  Whip the mixture vigorously for 30 seconds, and then let it sit for 5 minutes.  When it is ready to use, it will be thicker, similar to the consistency of an egg.  Ground flax and water is a great substitute for eggs in recipes like cookies, muffins or breads.