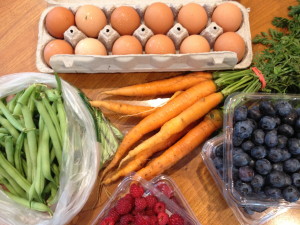 Last month when the local strawberries were out, I couldn't get enough.  I paired them with rhubarb to make pies and a crisp, used them fresh in my morning smoothies, and we sliced them for our salads with dinner.
For the past two weeks, we've been filling up on blueberries and raspberries from Phillips Farms.  And, last weekend at the market I added in some green beans (that my husband began immediately eating fresh when I took them out of the bag) and carrots from Sandbrook Meadow Farm, as well as some pastured eggs from Purely Farm.  Look at those beautiful colors!  In addition to eating them fresh on their own, the blueberries and raspberries have been wonderful in smoothies and salads, too.
I will probably roast the carrots and steam the green beans, though I have a great recipe I want to try for garlic-glazed green beans, so we'll see where the week takes us.
What did you get at your local farm market this weekend?  What are you making this week?