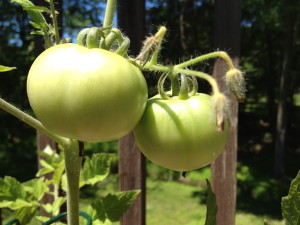 Do you have a garden at home?  If so, what are you growing in it?  From some preliminary rototilling in our garden, it would seem the garden bed has been fallow for a number of years (we moved in two years ago).  So, while we get the garden ready for hopefully some Fall planting (e.g., garlic), we have created a small balcony garden off the kitchen.  The current plants are:
raspberry, black cap raspberry, tomatoes, cilantro, peppermint, thyme, basil, marjoram, spearmint, chamomile, oregano, rosemary, leeks, fennel, dill, sage and parsley
The only plants that don't seem to like their living quarters are the leeks, who are in need of either being planted in the ground or put in a much bigger pot, as I think they are way too cramped currently to be productive.
I ate two black cap raspberry so far (they are young plants and have not yet produced berries, though the raspberry plant now has beautiful flowers on it) and have used a variety of the herbs.  Now we are patiently waiting for the four small tomatoes (see some above) on our two tomato plants to continue to grow and ripen.  Thank goodness for farm markets and CSAs (community-supported agriculture), as we couldn't survive on this year's crop! 🙂