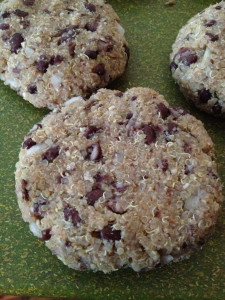 I kept meaning to take a final picture of these burgers, but then we were finishing them before I remembered to take a picture!  However, I am confident I will make them again and will then take a more appetizing picture.  These burgers are simple to make, hearty, and full of flavor and plant-based protein.  And, it always warms my heart when I can make something that my husband says is "really good" that is really healthy, too!
Inspired by a quinoa burger I had at a local restaurant and adapted from a few different recipes, here is my take:
Ingredients:
1 15 oz. can of black beans, rinsed and drained
3/4 cup of quinoa (make sure to rinse before cooking to remove any bitterness)
1 1/2 cup plus 3 tbsp of water, divided
1 tbsp of flax meal
1/2 cup of bread crumbs
2 tbsp of onion
2 cloves of garlic
1 1/2 tsp of cumin
1/2 – 1 tsp of salt (start with less, add to taste)
1 tbsp canola oil (optional, depending on cooking method)
  Instructions:
Bring the quinoa and the 1 1/2 cups of water to a boil in a saucepan.  Once it has come to a boil, turn heat down to medium-low, cover and simmer until water is completely absorbed and the quinoa is tender.
In a small bowl, vigorously mix the flax meal and the 3 tbsp of water and let sit for 5 minutes.  The mixture will thicken while sitting, but if it separates, give it a stir again.
Once you have rinsed and drained the black beans, put them in a medium-sized bowl and mash them with a fork or potato masher until you have created a thick paste but there are still noticeable bean pieces.
Add the quinoa, bread crumbs, onion, garlic, cumin, salt and flax mixture to the beans and mix until all ingredients are uniformly distributed.
Form 6 patties from the mixture with your hands.
Heat oil in grill pan over medium heat.
Grill patties, two at a time, in the pan for 5 minutes on each side or until brown and crispy on the outside.
Makes 6 burgers.
Potential local, seasonal additions:  diced tomatoes, diced pepper, cilantro, oregano, cauliflower (mashed)
Serving suggestions:  all the regular toppings work really well on these burgers.  We ate with sweet relish one night and fresh salsa the next.
What is your favorite burger recipe (plant- or meat-based)?  I would love to hear about it!